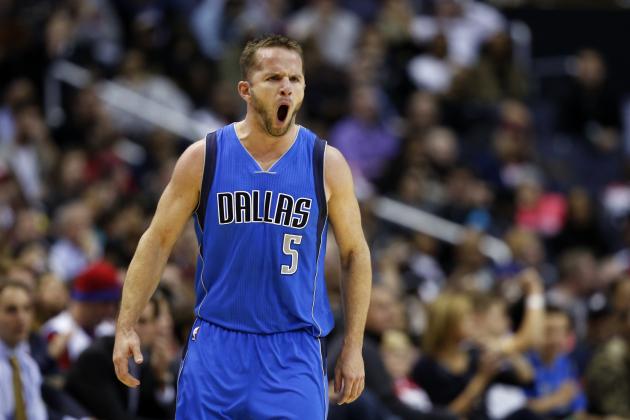 With only three players locked in for next season, the Mavericks have a whole lineup's worth of players entering free agency this offseason. In this new series, I attempt to make an educated guess on whether each free agent will be returning. We begin with J.J. Barea:
---
Re-joining the Mavericks after a disjointed three seasons with the Minnesota Timberwolves which ended with him getting bought out,  Barea seemed to fit right back in and settled into his old role as a spark plug off the bench pretty much immediately, with his regular season numbers pretty much in line with what he'd achieved in his first stint with the Mavs. After another solid postseason display in which he replaced Rondo in the starting lineup for the last couple of games, Barea is in line for a pay raise once again after playing for the veteran's minimum this year. However, my guess is that this shouldn't prevent his return this time.
For one, he's gotten his money after his little sojourn in Minnesota, so there's probably less impetus to look for the biggest payday again, or at least not at the expense of playing in a system and for a coach who he can flourish under. This leads to the second point, which is that he recognizes the unique way that he can be a key contributor in this organization. While it may be a small sample to draw from, his time with the T-Wolves showed that he might not be able to get the opportunities that he does with the Mavericks elsewhere. Add the fact that he's already 30, and he doesn't exactly have a ton of time left in his career to languish on teams where he doesn't have a significant role to play.
Chances are, he'll be looking for one last long-term contract, maybe something in the three or four-year range. His numbers are somewhat similar to Devin Harris', and he may be hoping to get about as much as Harris earns, but the Mavericks should be able to negotiate him down from there considering his size and the defensive issues that presents.
The Mavs have some real issues in the backcourt to tackle. J.J. won't be solving those problems, but it's a fairly safe bet that he can still be a solid contributor off the bench for another two to three years. Dallas may attempt to free up cap and/or roster space by trading or letting go some of their guards, but Barea fills a very specific hole for what is likely to be a very reasonable price, so he probably won't be one of those departing.
Prediction: Returning
Image: Source